Tel-A-Cross

Sisters of Holy Cross Newsletter - Fall 2019 Issue
New Front Entrance to St. George Manor: God Has Provided Through You!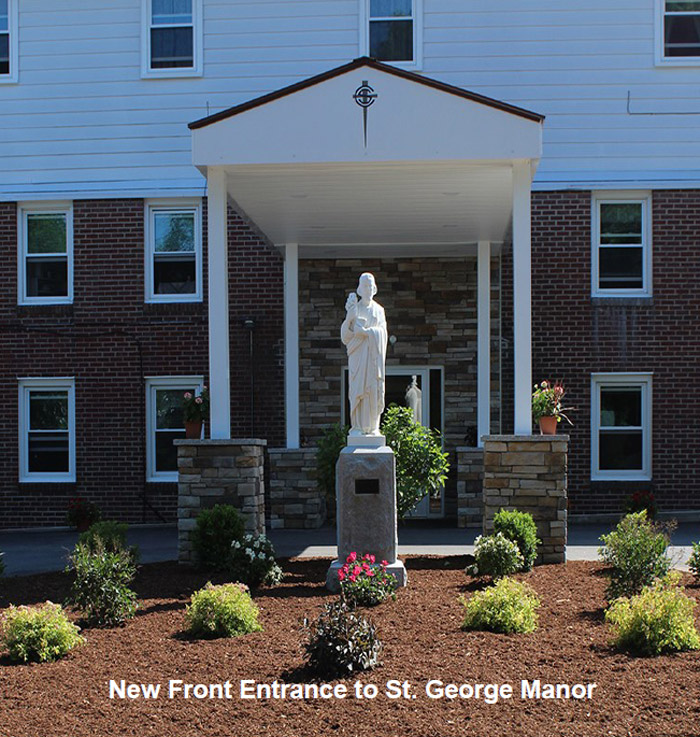 The last phase of our capital campaign repairs has finally become a reality. The front entrance to the Manor is now handicapped accessible. Much work had to be done before this dream became a reality such as permits from the city, hiring the proper contractors to accomplish the numerous tasks and making sure that our statue of Saint Joseph remained in place. This statue of St. Joseph was donated to us by Monsignor Devoie some eighty years ago. He gave us this statue so that Saint Joseph would protect the Sisters living on this property and that he would see that we would always have the finances to support the needs of this building.
Some of the new additions include the main entrance that is level with the driveway (no stairs to climb), automatic doors, a canopy over the horseshoe drive and flowers to enhance the beauty of the entrance.
Once again through the intercession of Saint Joseph and your generosity and prayers the front entrance is beautiful and practical.
Know that we are most grateful to each and everyone of you. Rest assured that you, your families and all of your intentions are remem-bered in our daily prayers and in a special Mass said for all of you on the 27th of each month.
Gratefully,
Sister Jacqueline Brodeur, CSC
Sister Suzanne Levesque, CSC
Additional articles in this issue:
They are Standing on our Shoulders
You're Invited: Art Exhibition - "Sister Eva Ledoux, CSC on Review"
Celebrating our Jubilarians
Congratulations Sister Jacqueline Verville, CSC
Announcing: A Day of Enrichment
Holy Cross Fair
Read More - Download Complete Issue
---
Previous Issues